Skip to Content
Quality Transmission Service in Santa Clara
Your vehicle's transmission is one of its most complicated and important components. Due to its complexity, it is very important that you get regular transmission service performed on your vehicle. If your transmission fails, not only is it very dangerous, but it is also very costly to pay for transmission repair.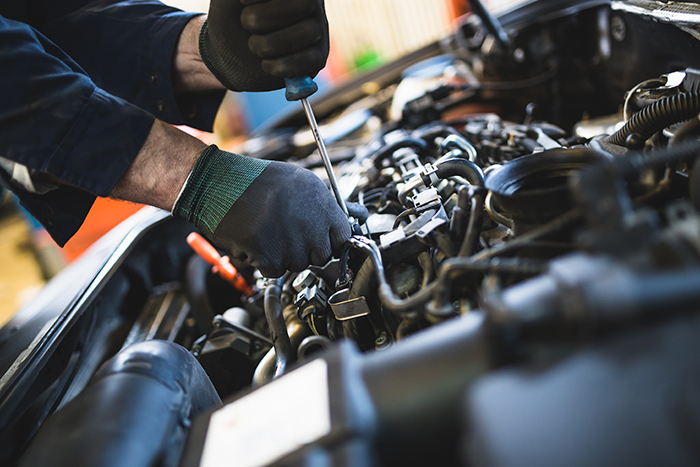 Signs of a Failing Transmission
There are a few telltale signs of a failing transmission which you should be aware of:
Check Engine Light: If you have a check engine light on it could be an indication of an issue with your transmission. Bring it in for a free check engine light diagnosis.
Leaking transmission fluid: This is one of the easiest signs to look out for. You might notice transmission fluid has leaked underneath your car in your garage or driveway. Transmission fluid is bright red and is quite sweet smelling.
Odd sounds: If you have a manual transmission, you might notice a grinding sound when you switch into a new gear. If you have an automatic transmission, you might notice the car stuttering into each gear rather than smoothly transitioning.
Service and Repair
Whatever kind of transmission you have, Autoland can service it here. Whether you have an automatic transmission, manual transmission, or a CVT transmission, we can have it running as smoothly as the day the car was purchased. Our expert mechanics will carefully evaluate your issue and make some good recommendations for you. If your car has less than 200,000 miles, then doing a transmission rebuild may be your best option – we will only replace what is broken based on your budget.
Transmission Maintenance
Having your vehicle's transmission regularly maintained and serviced is important. Regular maintenance can also help you to save money in the long-run. Paying for maintenance is significantly cheaper than having to purchase an all-new transmission for your car. For example, our auto shop can do a transmission fluid flush and replacement. We are committed to giving you the best possible deal on your car's transmission; this is why we are prepared to price match any written estimate for a transmission rebuild from another shop.
Transmission Rebuild FAQs
Your vehicle can't function properly without a healthy transmission system, which means that any potential problems need to be responded to right away. In some cases, you can simply replace any defective components in your transmission; in other cases, you'll need to replace your system entirely. If your transmission needs to be rebuilt, you can find the services you need at Autoland. Our team of experienced car technicians has been serving the Santa Clara community for more than three decades. Autoland offers expert car repair services to customers in the greater Santa Clara area, including San Jose, Sunnyvale, Cupertino, and Palo Alto. We also offer free towing services if you're within five miles of our shop. If your transmission system needs a professional's touch, bring your vehicle in so we can diagnose the problem and advise you on your best options. If you need a rebuilt transmission, we will match any other shop's price.
Should I have my transmission rebuilt or replaced? This depends partly on the age of your vehicle, and on how many miles you have put on it. With vehicles that have 200,000 miles or fewer, the option most often recommended is to replace worn or defective parts and rebuild the system. If your mileage is significantly higher than that, however, it's usually recommended that you simply replace your transmission system.
What is a transmission rebuild? You may have wondered whether there is a difference between a transmission rebuild and a transmission replacement. With a transmission rebuild, your system will be taken apart, thoroughly checked, and reassembled with new components in place of any worn or defective parts. With a transmission replacement, all of your system's parts are replaced.
How can I tell when my transmission system needs work? If there's an issue with your vehicle's transmission system, you should take it to the auto shop for an inspection. Warning signs of a transmission problem include slow or difficult shifting, unusual sounds when you shift, and fluid leaking from your engine.
What are the advantages of a transmission rebuild? If your car technician recommends that you have your transmission system rebuilt, there are a number of benefits to going with this option. Rebuilding your transmission is less expensive than replacing it, and it can be done much more quickly. Keep in mind that a rebuild isn't the same as a simple repair—it involves a complete inspection of every component of your transmission.
Call Us Today to Schedule a Free Estimate!